My Blog
Posts for tag: gum disease
By Duane Wolff, D.D.S.
July 22, 2018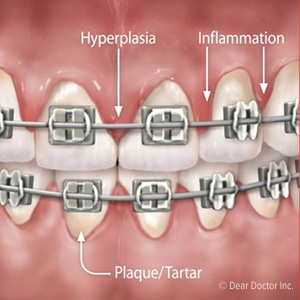 On your way to a more attractive smile, you'll have to deal with some inconveniences while wearing braces like avoiding certain foods or habits or dealing with possible embarrassment about your new "metal smile." But there's one consequence of wearing braces that could dramatically affect your dental health: the difficulty they pose for keeping your teeth clean of dental plaque.
Dental plaque is a thin film of bacteria and food particles that if allowed to build up on tooth surfaces could trigger tooth decay or periodontal (gum) disease. Brushing and flossing thoroughly every day helps prevent this buildup.
Unfortunately, metal brackets and wires can get in the way and cause you to miss areas while performing these hygiene tasks. This could cause plaque buildup in those isolated areas that could trigger an infection. And if you (or someone you love) are also a teenager, the natural adolescent surge in hormones can increase your infection risk.
If while wearing braces you notice your gums are reddened, swollen or bleeding when you brush, these are all signs of infection and the body's inflammatory response to it. The longer the infection continues, the weaker the tissues become, causing them to gradually detach from the teeth. Along with bone deterioration (another effect of the disease), this can ultimately lead to tooth loss.
To prevent this from happening, you'll need to be as thorough as possible with daily brushing and flossing. To help make it easier, you can use special tools like an interproximal brush that can maneuver around the braces better than a regular brush. For flossing you can use a floss threader to more readily guide floss between teeth or a water flosser that uses a pressurized stream of water rather than floss thread to remove plaque.
This extra cleaning effort while wearing braces can greatly reduce your disease risk. But you'll still need to keep an eye out for any symptoms like swollen or bleeding gums, and see your dentist as soon as possible. If the symptoms become severe you may need your braces removed until the disease can be brought under control. The health and future vitality of your teeth and gums is what's of primary importance.
If you would like more information on dental care while wearing braces, please contact us or schedule an appointment for a consultation. You can also learn more about this topic by reading the Dear Doctor magazine article "Gum Swelling During Orthodontics."
By Duane Wolff, D.D.S.
August 30, 2017
In the fight against dental disease and other conditions your general dentist is your first line of defense for prevention strategies and treatment. Sometimes, however, your condition may require the services of a dental specialist to restore health to your mouth.
A good example of this is an advanced case of periodontal (gum) disease. While your dentist and hygienist are quite skilled at removing plaque and calculus, there may be extenuating circumstances that may benefit from the knowledge and expertise of a specialist. In the case of gum-related issues that would be a periodontist, a dentist who specializes in the diagnosis and treatment of diseases or disorders related to the gums and bone that support teeth.
There are a number of reasons why you may be referred to a periodontist regarding your gum health. Besides advanced stages of the disease (loose teeth, periodontal pocketing or bone loss) that require surgery or other invasive techniques you may have a particular form that requires advanced treatment, or a secondary condition, like pregnancy or diabetes, which could impact your periodontal condition. There may also be a need for a periodontist's consultation if you're preparing for cosmetic restoration, most notably dental implants, that could have a bearing on your gum and bone health.
As your primary oral health "gatekeeper," your general dentist is largely responsible for determining what you need to achieve optimal health. Likewise, your periodontist or other specialists for other problems will be equally committed to providing you the right care for your situation. Your general dentist and other specialists will work together to ensure that your condition will be cared for, and that you'll continue to enjoy the highest level of oral health possible.
If you would like more information on the role of periodontics and other dental specialties in oral health, please contact us or schedule an appointment for a consultation. You can also learn more about this topic by reading the Dear Doctor magazine article "Referral to a Dental Specialist."
By Duane Wolff, D.D.S.
July 08, 2017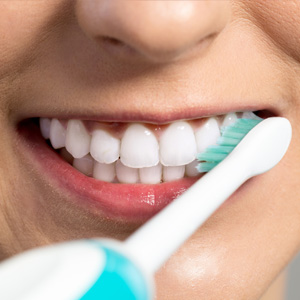 Archeologists can tell us quite a bit about our primitive ancestors. For example, because of their coarse, abrasive diet and a primitive understanding of oral hygiene, their teeth had a rough go of it. They simply wore out faster — a contributing factor, no doubt, to their short life spans of thirty or forty years.
But thanks to improvements in lifestyle, healthcare and diet, people live much longer today. And so do their teeth, thanks to advances in dental care and disease prevention. While teeth still wear to some degree as we age, if we care for them properly with daily oral hygiene and regular dental visits, we can keep that wear to a minimum. Teeth truly can last a lifetime.
Unfortunately, it's still all too common for people to lose their teeth prematurely. The main reason: the two most prevalent dental diseases, tooth decay and periodontal (gum) disease. Tooth decay arises from high concentrations of mouth acid that erode enamel, teeth's irreplaceable protective shell. Gum disease is an infection that damages the bone supporting tissues as it infiltrates deep below the visible gum line.
While they occur by different mechanisms, the two diseases have some commonalities. They both, of course, can lead to tooth loss. And, they're both triggered by oral bacteria found in dental plaque, a thin film of food particles built up on tooth and gum surfaces. Multiplying bacteria feed on plaque and produce acid as a by-product. And certain bacterial strains infect gum tissues.
Both of these diseases can be treated successfully, especially if detected early. But the better approach is to prevent them in the first place. This introduces another commonality — they share the same prevention strategy of daily, comprehensive brushing and flossing for plaque removal, regular dental cleanings and checkups, and a sharp eye for any signs of disease like bleeding gums or tooth pain.
With diligent dental care and close attention to your oral health, you increase your chances of avoiding the full threat of these diseases. And with healthy teeth, you have a better chance of living a long and healthy life.
If you would like more information on minimizing tooth wear, please contact us or schedule an appointment for a consultation. You can also learn more about this topic by reading the Dear Doctor magazine article "How and Why Teeth Wear."