My Blog
Posts for: April, 2021
By Duane Wolff, D.D.S.
April 18, 2021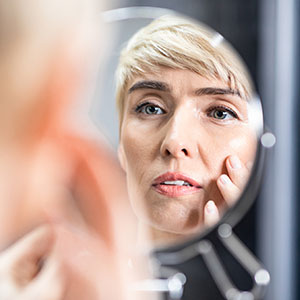 Correcting a bite problem involves more than applying braces. Orthodontists must consider a wide range of factors, including the type of bite problem involved, complications like impacted or missing teeth, and their patient's overall dental condition.
Orthodontists must also keep in mind the future—how will a treatment implemented now impact a patient's appearance and dental function many years from now? In reality, orthodontists perform these treatments within a dynamic growth environment, especially involving children and teenagers whose mouth and facial structures are still maturing.
And although these growth changes slow in adulthood, they don't stop—orofacial structures continue to change throughout life. For example, a person's lips steadily thicken in size until the mid-teen years, and then slowly thin out over the rest of their lifetime. The distance between the lips both at rest and while smiling may also narrow in later years. Other changes continue to occur in the bones and soft tissues of the mouth and face.
Fortunately, this structural growth follows a fairly consistent track. Although variations do occur, an orthodontist can project the growth changes their patients will undergo as they age, and use that knowledge to plan out bite treatment. With this understanding, orthodontists plan not only what treatments will be needed, but when to perform them, and to what extent.
This may involve a number of treatment stages, spaced out to coincide with regular development. An orthodontist may focus first on general bite correction to bring the teeth and jaws into a reasonable state of alignment. Later, they'll use more refined methods to fine-tune corrections that better align with later adult growth.
More intensive treatments may be necessary to build a foundation for future treatment. For example, orthognathic surgery may be needed to correct a severe case of an over-extended lower jaw. During the procedure, surgeons move the lower jaw to a joint position higher on the skull. This retracts the lower jaw into a more normal alignment with the upper jaw, and can dramatically change the facial profile for the better.
Each orthodontic patient is different, and each requires their own a unique treatment plan. That plan has a greater chance of long-term success by applying knowledge of future growth changes.
If you would like more information on orthodontic treatment, please contact us or schedule an appointment for a consultation. You can also learn more about this topic by reading the Dear Doctor magazine article "Understanding Aging Makes Beauty Timeless."
By Duane Wolff, D.D.S.
April 08, 2021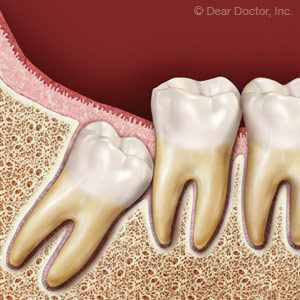 During election season, you'll often hear celebrities encouraging you to vote. But this year, Kaia Gerber, an up-and-coming model following the career path of her mother Cindy Crawford, made a unique election appeal—while getting her wisdom teeth removed.
With ice packs secured to her jaw, Gerber posted a selfie to social media right after her surgery. The caption read, "We don't need wisdom teeth to vote wisely."
That's great advice—electing our leaders is one of the most important choices we make as a society. But Gerber's post also highlights another decision that bears careful consideration, whether or not to have your wisdom teeth removed.
Found in the very back of the mouth, wisdom teeth (or "third molars") are usually the last of the permanent teeth to erupt between ages 17 and 25. But although their name may be a salute to coming of age, in reality wisdom teeth can be a pain. Because they're usually last to the party, they're often erupting in a jaw already crowded with teeth. Such a situation can be a recipe for numerous dental problems.
Crowded wisdom teeth may not erupt properly and remain totally or partially hidden within the gums (impaction). As such, they can impinge on and damage the roots of neighboring teeth, and can make overall hygiene more difficult, increasing the risk of dental disease. They can also help pressure other teeth out of position, resulting in an abnormal bite.
Because of this potential for problems, it's been a common practice in dentistry to remove wisdom teeth preemptively before any problems arise. As a result, wisdom teeth extractions are the top oral surgical procedure performed, with around 10 million of them removed every year.
But that practice is beginning to wane, as many dentists are now adopting more of a "wait and see" approach. If the wisdom teeth show signs of problems—impaction, tooth decay, gum disease or bite influence—removal is usually recommended. If not, though, the wisdom teeth are closely monitored during adolescence and early adulthood. If no problems develop, they may be left intact.
This approach works best if you maintain regular dental cleanings and checkups. During these visits, we'll be able to consistently evaluate the overall health of your mouth, particularly in relation to your wisdom teeth.
Just as getting information on candidates helps you decide your vote, this approach of watchful waiting can help us recommend the best course for your wisdom teeth. Whether you vote your wisdom teeth "in" or "out," you'll be able to do it wisely.
If you would like more information about what's best to do about wisdom teeth, please contact us or schedule a consultation. To learn more, read the Dear Doctor magazine article "Wisdom Teeth."