My Blog
Posts for: September, 2018
By Duane Wolff, D.D.S.
September 20, 2018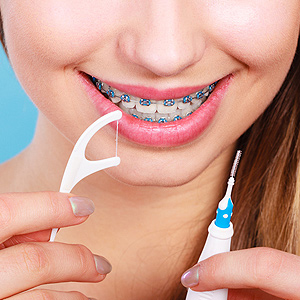 If you're about to undergo orthodontic treatment, you're going to face a challenge keeping your teeth and gums clean wearing braces. That in turn could increase your chances for tooth decay or periodontal (gum) disease, which could diminish your future dental health and disrupt your current orthodontic treatment.
The main hygiene tasks of brushing and flossing are more difficult with braces because of the fixed hardware on the teeth. Your toothbrush or floss can't always easily maneuver around the wires and brackets, increasing the chances you'll miss some areas. These neglected areas can then accumulate dental plaque, a thin film of bacteria and food particles that's most responsible for disease.
But although difficult, effective oral hygiene isn't impossible.  First and foremost, you'll need to take more time to be thorough with brushing and flossing than you might normally without braces.
Second, there are some specialized hygiene tools to make the job easier. Instead of a regular toothbrush try an interproximal brush. This special brush has a long and thin bristled head (resembling a pipe cleaner) that can maneuver in and around orthodontic hardware much easier than a regular brush.
For flossing, use a floss threader, a device through which you thread floss on one end and then pass the other sharper end between your teeth. Once through, you release the floss from it and floss as usual, repeating the process with the threader for each tooth. Another option is an oral irrigator, a device that emits a pressurized spray of water between teeth to loosen plaque and flush it away. Many orthodontic patients have found this latter option to be quite effective.
Finally, continue seeing your regular dentist for regular appointments in addition to your orthodontist. Besides cleaning those hard to reach areas, your dentist can also provide other preventive measures like topical fluoride for strengthening enamel and prescription mouth rinses that inhibit bacterial growth. You should also see your dentist immediately if you notice signs of disease like spots on the teeth or swollen or bleeding gums.
Keeping your teeth clean while wearing braces is a top priority. Doing so will help ensure your new smile after braces is both an attractive and healthy one.
If you would like more information on dental care during orthodontics, please contact us or schedule an appointment for a consultation. You can also learn more about this topic by reading the Dear Doctor magazine article "Caring for Teeth during Orthodontic Treatment."
By Duane Wolff, D.D.S.
September 10, 2018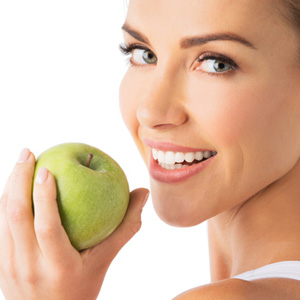 If you're brushing and flossing daily, as well as seeing your dentist at least every six months, you're doing the top things needed to maintain your dental health. But all your hygiene efforts could be undermined if you're not eating a dental-friendly diet. Simply put, there are foods that protect and promote dental health and those that increase your risk of dental disease.
Diets in the latter category are typically high in added sugar and low in natural food fiber. The largest sources of these are processed sugars from sugar cane or beets and high fructose corn syrup. With just a little knowledgeable label reading, you can find sugar and its various aliases added to thousands of processed food items including pastries, candies, sodas and energy drinks.
Heavy consumption of processed sugars also contributes to dental disease. Disease-causing bacteria thrive on sugar as a food source, which fuels both their growth and their production of oral acid. Elevated acid levels can dissolve the minerals in tooth enamel faster than saliva can keep up. Softened enamel opens the door to tooth decay, while increased bacterial growth can lead to periodontal (gum) disease.
A diet, however, low in added sugar and high in fiber can have the opposite effect. Although fresh fruits and vegetables contain natural sugars, they also have indigestible parts called fiber that slow the digestion of any sugars and allow the body to more efficiently process them.  With the higher quantity of vitamins and minerals found in unprocessed foods, the overall effect of this diet is a decrease in your risk for dental disease.
Speaking of dental-friendly foods, we should also give honorable mentions to certain dairy items like cheese and milk that stimulate saliva production and are rich in calcium needed for tooth strength. Another beneficial category is both black and green tea, which contain antioxidants to fight disease and fluoride to strengthen enamel.
Adopting a low-sugar/high-fiber diet can have a profound impact on your overall health. Over time, you'll also reap dental health rewards with stronger teeth and gums and a lower risk of tooth decay and gum disease.
If you would like more information on diet and oral health, please contact us or schedule an appointment for a consultation. You can also learn more about this topic by reading the Dear Doctor magazine article "Nutrition & Oral Health."